As Randolph Smith reflects on his pathway to obtaining his Bachelor's degree, he is open about the detours and challenges he faced along the way. His hard-earned advice to aspiring adult students, "Never Give Up."
Randolph Smith has just received the NACTEL Founder's Award in recognition of his academic achievements. The National Alliance for Communications Technology Education and Learning (NACTEL) is the premier source of online education to address critical employment needs in the evolving communications industry. NACTEL's education partner, Pace University offers online courses, badges, certificates and degrees developed by the industry, for the industry.
Randolph started his Associate's at Pace University in the Summer of 2016 and graduated in May 2020 with a concentration in Networking and then continued on to the Bachelor's, taking 4 classes in his final semester in order to graduate. He had a lot of transfer credits that applied to the Bachelor's of Science in Technical Leadership. His current GPA is a 3.85.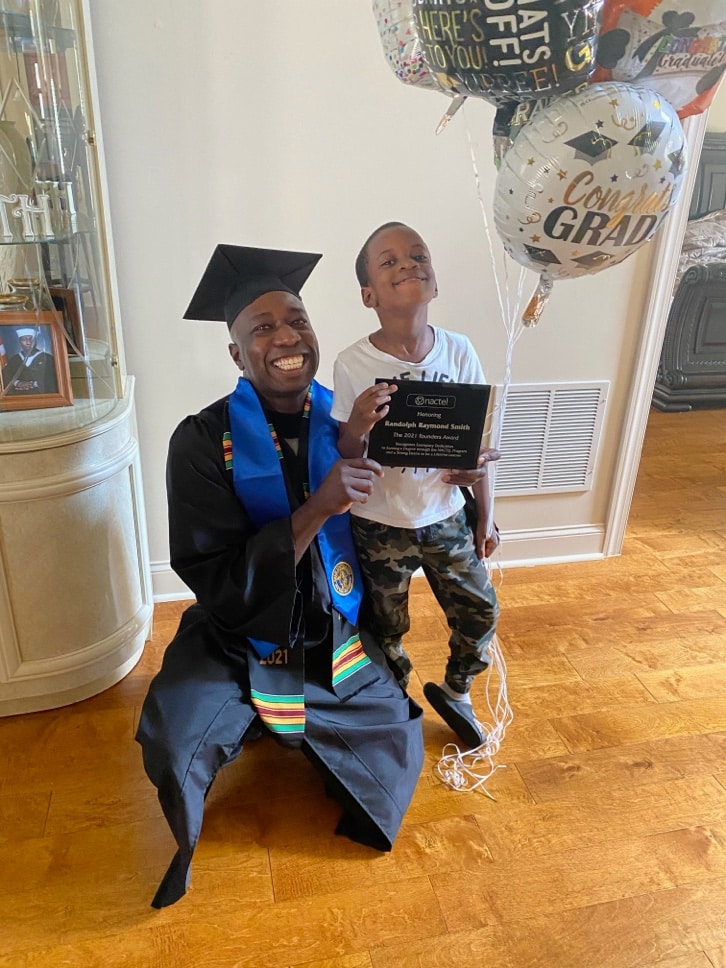 Randolph has 15 years of work experience in telecommunications. He currently works for AT&T as a Telecommunications Technician. He attended college right out of high school and was pursuing his Bachelor's.  Like many traditional age college students, his plan for college involved a lot of exploration and not nearly enough academic advising.  He shares, "When I first finished high school, I wanted to go to college. I'm the first out of four siblings to go to school.   So I started going to SUNY Farmingdale pursuing a Bachelor's."  After three years, he found that he was more interested in working and decided to put school on the back burner. He ended up with 80 credits but lacked the requirements to get an Associate's.
As the years passed, Randolph and his brother talked about returning to school to achieve this important family milestone. Throughout these years, he continued working and made one additional attempt to return to school but it didn't stick. Sadly, his brother passed away at a young age before they could reach their shared goal to become college graduates. Randolph ended up moving from Virginia to Georgia for a fresh start.
As he continued to work at AT&T, he frequently received emails about the NACTEL program. As he tells it, "I was getting emails left and right." In finally deciding to carefully read one of the emails, he was pleasantly surprised to read about all that PACE had to offer. He was familiar with PACE but initially concerned about the tuition cost. His manager knew about his situation (80 credits – no degree) and encouraged him to enroll for an Associate's. What tipped the scales for Randolph this time? The support of the AT&T tuition assistance program and encouragement from his manager inspired him to do it.
It took some time to gather up transcripts and create a plan for degree completion.  PACE accepted most of his credits and the tuition assistance support was key. He found their admissions team to be incredibly responsive and willing to answer all of his questions.  Randolph established a great relationship with his academic advisor. He mapped out every course needed in excel and she helped him to find the quickest path to degree completion. "It was a smooth oiled machine," he shares. I maxed out my AT&T tuition assistance plan for a Bachelor's. He was "adamant" about finishing this time.
At the same time that he returned to school, he was also planning a wedding and raising his four year old son. Time management was paramount. He found himself completing homework late at night, during lunch breaks and whenever he could fit it in. He had Blackboard on his phone and could check in on student threads at any hour. The online format worked really well for him – better than a traditional classroom setting. He shares, "For me, online was so much better because I was able to work around my schedule. I feel like I got the same amount of content that I would get in the classroom. I had a lot of interaction with other students but it was through discussion posts."
Randolph went from Associate's to Bachelor's on a fast track and completed several badges along the way. He shares, "I always thought about what my parents think and my brothers and sisters and family and my son. And if you're going to go through the pain, you should have something to show for it. If you're going to cry about it, have something to cry about."
Though his schedule was intense, the learning related to his work and sparked new interests too. The program offered by PACE was "amazing" for him. In addition to his manager, he also received support from his union steward, who proctored his exams.
What's next for Randolph? He plans on continuing his education and is pursuing a Master's with funding from AT&T's tuition reimbursement program. His advice to employers with great programs like NACTEL, "Keep sending employees those emails!"
He would advise other working adults to take advantage of employer tuition reimbursement programs and programs like NACTEL. He states, "I would tell them to go for it. Most of the time technicians like myself or any other individual, they've started school and they're not really starting from zero. Even if you're starting from zero, you could take one class a semester, finish in 10 years, they will not know that it took 10 years right now to get a degree. Take advantage of all the opportunities offered to you."